News — #enlightenedequitation
• #classicalseat • #connectionriding • #enlightenedequitation • #onlineridingschool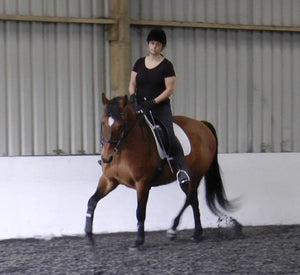 One of my EE teachers was asked by a fellow livery at the yard where she keeps her horses 'Why ride in this Classical seat? It's not proper riding, you can't ride like that out hacking or generally'. Oh the misunderstanding, the ignorance that still abounds in the horse world! My staff, pupils and I, never ride in any other way. Yes, we will put the stirrups up a hole for hacking and probably two if going for a canter, but the position doesn't alter from the ear/shoulder/hip/heel line. Little do these people realise that it's actually a very secure...
---
• #deepandround • #enlightenedequitation • #longandlow • #rollkur • #uthopia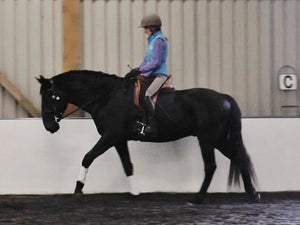 There is an enormous amount of confusion in the horse world about what constitutes 'long and low', 'forward down and out'  'deep and round' and the dreaded 'rollkur'. For me, the average exponent of 'long and low' has the horse almost 'peanut rolling' head near the floor, trundling along on its shoulders. 'Forward, down, out' is probably the method espoused by proponents of Philippe Karl's 'School of Legerete',  where he is looking for 'neck extension' with the poll always the highest point, and the horse extending the frame with nose well in front of the vertical. 'Deep and round' is...
---
• #connectionriding • #enlightenedequitation • #onlineridingschool • #video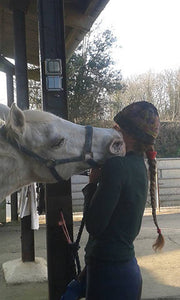 I was surprised, no, rather shocked, last week to read a post on my Enlightened Equitation Facebook group where the writer said that she was into natural horsemanship, to 'better connect with her horse' and that she would find my training 'intimidating'. I queried why out of genuine curiosity, but haven't seen a reply. Intimidating? But why?!! I have long promoted the strapline on my website of 'A Kinder Way to Ride and Train'. Does this conjure up the image of the stereotypical riding instructress of old, who barked commands military-style, to her frequently terrified pupils?! I see courses of...
---
• #enlightenedequitation • #ibooks • #kindle • #sale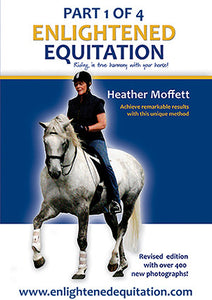 Heather Moffett's best-selling book "Enlightened Equitation: Riding in True Harmony with Your Horse" is now available for Kindle and iBooks! In four parts and currently on sale from only £1.99 per part, the perfect treat for yourself or a friend. Enlightened Equitation - Part 1 covers an Introduction to Enlightened Equitation and Chapters 1-3 (Enlightened Approach, Position and Balance, Interaction with the Horse's Movement). Enlightened Equitation - Part 2 consists of Chapters 4-7 (Learning Feel, The Aids - An Explanation, The Application of the Aids, and Understanding Schooling Terms).  Enlightened Equitation - Part 3 encompasses Chapters 8-10 (Turns and Circles, Transitions and Half Halts, and Rhythm and...