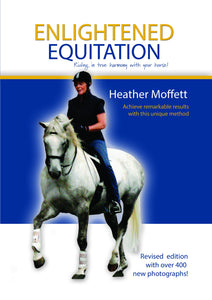 Enlightened Equitation for Kindle/iBooks: full book
Regular price
£8.99
Sale price
£13.99
Revolutionise your riding! This ebook combines all of the parts of the revised and updated version of Heather Moffett's best selling book, Enlightened Equitation, now with nearly 500 all new photographs. Heather Moffett is known for her unique, simple and logical approach to the teaching of riding.This book is the culmination of over 40 years experience training and coaching all levels of riders.
This fully revised version has one hundred extra pages and nearly 500 new colour photographs, many depicting sequences where the rider is having a problem, Heather showing clearly how this is corrected, with extensive captions, further enhancing the text.
Especially of interest is the chapter on lateral work, with nearly one hundred photographs showing how to achieve these movements, Heather also highlights the pitfalls frequently encountered when first learning lateral exercises, and shows how to overcome them.

Foreword is by Patrick Print, OBE,
FBHS, former chairman of the British Horse Society.
Heather has been an invited lecturer and demonstrator at venues including Equitana Germany and Kentucky, Sydney Olympic Centre, Australia, The Horse Event, Holland, Your Horse Live, UK and many other venues around the world. She pioneered the teaching of riding with horse movement simulators, and now with over 15 years experience has taught thousands of riders to achieve their aims of a correct, elegant and effective classical seat. Heather also has a comprehensive online video library with over 100 videos, including a full 14 day free trial - https://www.onlineclassicalridingacademy.com/
---
Share this Product
---
More from this collection